As part of his business trip after the cherry blossom season to Japan from England, IM Ameet Ghasi was invited to play a simultaneous exhibition against kids, junior and adult players in the Tokyo Bilingual Chess club on April 21st, 2018.  It's not everyday chess players in Japan get to hear from an international master.  IM Ghasi played seperate chess games against eleven attendees at one time—eight children and three adults, ratings from approximately 600 up to 2200+, as Simon Schweizer who has just moved to Kamata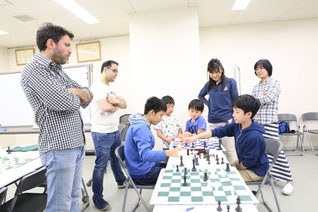 from Switzerland.  It was announced that his opponents should wait for him to appear at their boards before they make their moves.  Your best chance to draw or win against a chess master is to play in a simultaneous exhibition.  A middle school student, Haruto Endo, won a game against IM Ghasi.  Everyone had a fun time watching and learning more about the game, and the players all enjoyed playing such a famous international master who came from outside of Japan.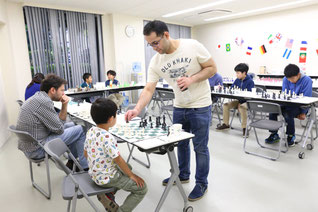 It was certainly a fun night to have a dinner with IM Ghasi at the Tempura restaurant - "Isshintei" and a great way to get the community more involved for the Tokyo Bilingual Chess Club.  Thank you to IM Ghasi for a lasting, memorable, and inspirational experience that will be remembered for years to come for kids. We look forward to similar events in the future!